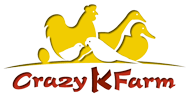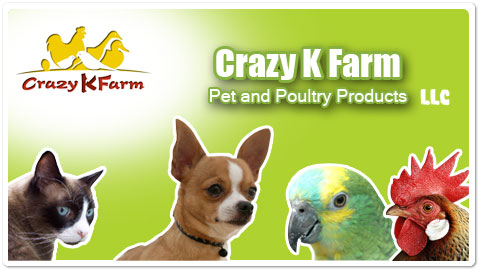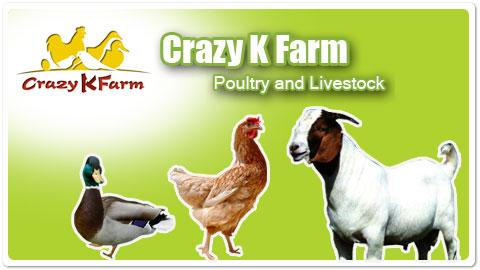 Crazy K Farm is a non-profit organization dedicated to rescuing animals. We do, however, periodically adopt out chicks, ducklings and goslings to excellent homes.


The majority of our adult poultry are rescues and we are their forever home. All birds have free-range of our 35 acres and are protected from predators by trained Livestock Guardian Dogs (also rescues). We do not cull - all poultry (and other animals) on our farm are given the best medical attention for illness or injury. If you want to help us care for our rescues, please consider adding a Crazy K Farm T-shirt to your order!

Chicks, Ducklings and Goslings: Despite our best efforts, we usually have a variety of birds hatched by stubbornly broody females available for adoption. Our flock is certified pullorum-typhoid free and all of our chicks are vaccinated against Marek's disease. Adoption fees are as follows: mixed breed chicks for $2 each; Goslings, when available, are $15 - $30 each; We also have a limited availability of Guinea Fowl ($3 each), Muscovy ducklings ($3 each), and a variety of purebred chicks ($3 each), including Ameraucana, Barred Plymouth Rock, Sex-link, New Hampshire Red, Black Australorp, Rhode Island Red, Leghorn, Buff Orpington, Cochin, Silkie, Frizzle and several others. 100% of the proceeds from sales of eggs and T-shirts and adoption of hatchlings are used to care for the permanent animal residents of the farm.

Shipping (UPDATED): We prefer not to ship. Under certain conditions, we will ship birds by Express Mail in USPS-approved live-chicken shipping boxes. We do not ship birds that are less than 8 weeks old. We ship in comfortably outfitted live-bird shipping containers and the birds are shipped overnight – no exception. They leave here at 4:30 pm and they must be able to arrive at their destination the following day. Please contact us to discuss our shipping policies and to obtain a shipping quote @ 800-980-4165 ext. 0.